16 May 2018 - 31 December 2018
Co-working Space and working outside the office or house is beginning to be a trend. Right now cafe is not only for just reading books or for small chit chat but it begins to be a meeting place for many occasions like we're going back to the 18th century in France which is the birthplace of making cafe into a meeting place the differences is that right now they give you free wifi, have a wide selection of bakery, the seats are comfortable and have a cool air conditioning. Let's check out the places that you could carry your laptop and invite your friends to have a small meeting without any worries.

1. jones the grocer
This may not be the first places that pop up into your mind because it kinda looks like a restaurant but they sells coffee too and they have a small section for a cafe. The important thing is that they give you free wifi and you can use it until the store close. The staff is also nice and doesn't mind at all if you want to sit and do your work for the whole day. If you are hungry you can order a main dish, their specialty is steak because this store came from Australia. The store is decorated to look like a kitchen but with an industrial taste. The seats are comfortable and do you know that they also sells beers, wine too? You know, right that if you want to spice up your work a bit you know what to order.
jones the grocer G Floor The Glass Quartier at The EmQuartier
2.True Coffee & True Sphere
One of the Thai cafes that you should not look over. True coffee will make your business with true shop more relaxing because while you are waiting for your queues you could order drinks, or pastry and even you could order a toast too, so that even though you are hungry you won't have to leave the store. True coffee has a budget drink but familiar to the Thai people like ''Kaffe Boran' or Thai tea. Also after buying a drink you will be given a high speed wifi 1 hour for free.
But if you have a True Black Card you can use the True Sphere that have been design with a co-working space in mind making all the seats are comfortable and have good lay out. Every seats have a charging station for every devices you have on the table. They also have unlimited free wifi and they will give you 1 complimentary drink with 2 cookies but if you bring a friend want to order more the staff will take your order from your table and make a fresh one and serve it to your desk so that you won't miss out any conversation. So next time you want to pay your phone or internet bill and want to have a meeting with a client this place is perfect for that.
True Coffee 3rd floor and True Sphere 2nd  floor :The Helix Quartier at The EmQuartier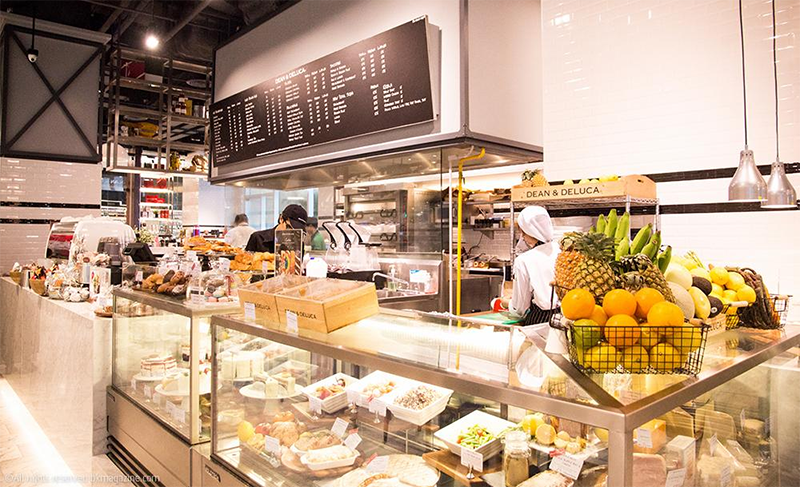 3.Dean & Deluca
A cool cafe from New York that opened in Thailand in just a few years ago but has gained quite a lot popularity. The store has decorated like we're entering our friends kitchen but have a bit industrial feeling but more friendly. The key point is that outside the window we could see that there is a waterfall that will make us relax and calm with the scenery. There is charging station scattered all over the place. And the coffee are awesome and have a wide variety of pastry. They also serve main dish too. And above all they will give you free unlimited wifi, and after you done with your work you can shop small groceries and small item that was imported from the USA which look very minimal but with style.
Dean & Deluca G floor The Waterfall Quartier at The EmQuartier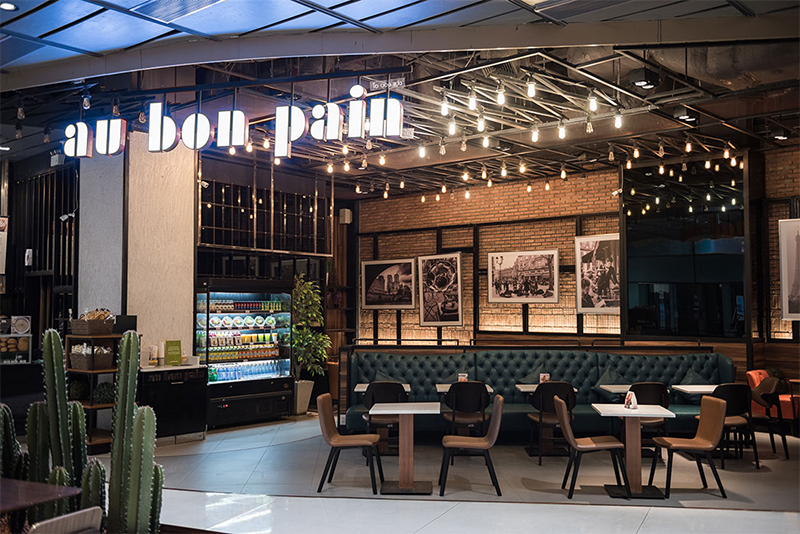 4.au bon pain
A French cafe that have a feels like home atmosphere. Their drinks, pastry and salad are great but the highlight are at the sandwich, which they have quite a selection to choose from (my favourite is bagel, what's yours?) after ordering they will gently make our order by hands and they use the freshest and cleanest ingredients making it very fresh, healthy and above all, very delicious. The cafe looks nice and cute with lots of lighting like we're in a cafe abroad. If you want to work there, they will give you free wifi for 2 hours. If you want a simple cafe with simple atmosphere to work, then this is the place.
au bon pain B1 The Waterfall Quartier at The EmQuartier
5.AIS D.C.
A great co-working space that have unlimited free wifi that has a DNA from the previous tenant that is TCDC. Their concept is a space for the new generation who loves creative ideas. This place has partition into different section starting with 'Co-space' – a place working space that have 10,00 books about design and technology all over the area. 'Meeting room' – as the word imply, its for serious meeting that won't have any disruption at all. 'Studio room'-  a room that dedicated for photography and films. There is also 'S.A.T. Place' for sharing new ideas and having people who have the same passion come and giving out valuable feedback. The annual pass is 1,200 Baht but if you are an AIS serenade user you can come and use for free from today to August 2018.
AIS D.C. 4 floor at The Emporium