20 20 0201 - 20 20 0229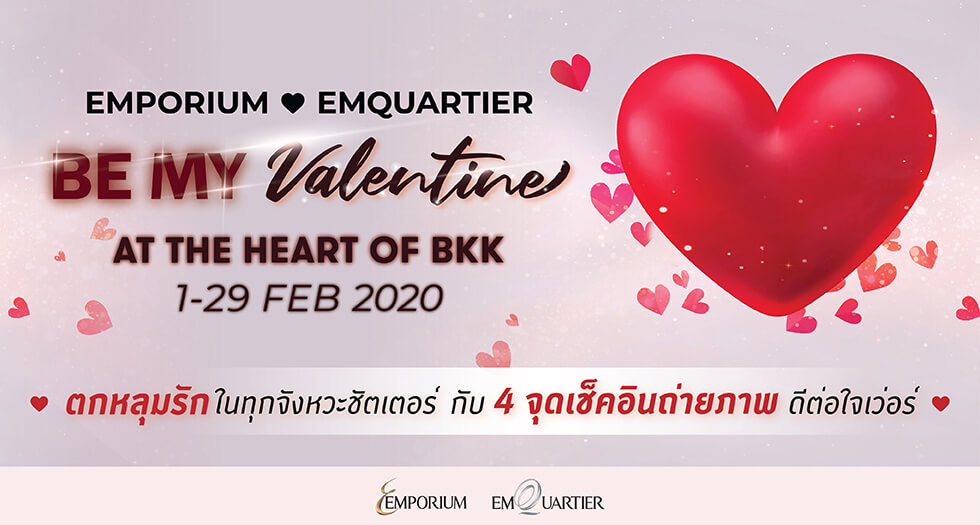 The countdown is on to Valentine's Day! So, it's time to plan ahead for the most special dates with your significant others.
Let's start by adding a little sparkle to your celebration. This year, the Helix Sky Dining will offer an exclusive Valentine's Day sparkling refreshment from Chandon to the first 100 couples who make a reservation at selected 26 dining venues* on 14 February 2020 via Line ID : EMDINING.
On top of bespoke refreshment, we're making the upcoming occasion even more unforgettable with a Acoustic Mini Show with Trinity. This opportunity will be available only for the first 100 customers who dine at the Helix Sky Dining more than 2,000 baht between 1-26 February 2020.
Also, come to join us for the most romantic evening Quartier Parc has to offer,  as the venue will be filled with beautiful live melodies performed by the legendary Tor Saksit.  Started from 6.30pm onwards, the special showcase is guaranteed to give you and your dates butterflies.
Last but not least, don't forget to bring your sweeties, families and buddies to capture memorable moments with our 11-meter inflatable Heart of BKK at Quartier Parc, and 3 other one-of-a-kind Valentine's Day landmarks; You Light up My World at EM Station, Wild at Heart at Bridge A-C, and Shape of My Heart at Helix Quartier.
*26 Dining Venues
MK LIVE
SAVA ALL DAY DINING
FUJI
LUK KAITHONG
KUB KAO' KUB PLA
HOKKAI-DON
GAIHOUND
SOUTH TIGER
LA MONITA MEXICAN URBAN CANTINA
LE DALAT
FOUR SEASONS
RAMEN MISOYA
NARA THAI CUISINE
LAEM CHAROEN SEAFOOD
THONG SMITH
MAISEN
AUDREY CAFÉ DES FLEURS
GINZA SHABU-TEN
TAJIMA
TENYUU SHO
MAN FU YUAN KITCHEN
POT MINISTRY
CAFÉ CHILI
BELLA ROCCA
THE CHOP
YOU & I PREMIUM SUKI BUFFET
MUGENDAI PENTHOUSE
#EMVALENTINESDAY #EMCOMMUNITY
#EMPORIUM #EMQUARTIER