20 20 0922 - 20 20 1231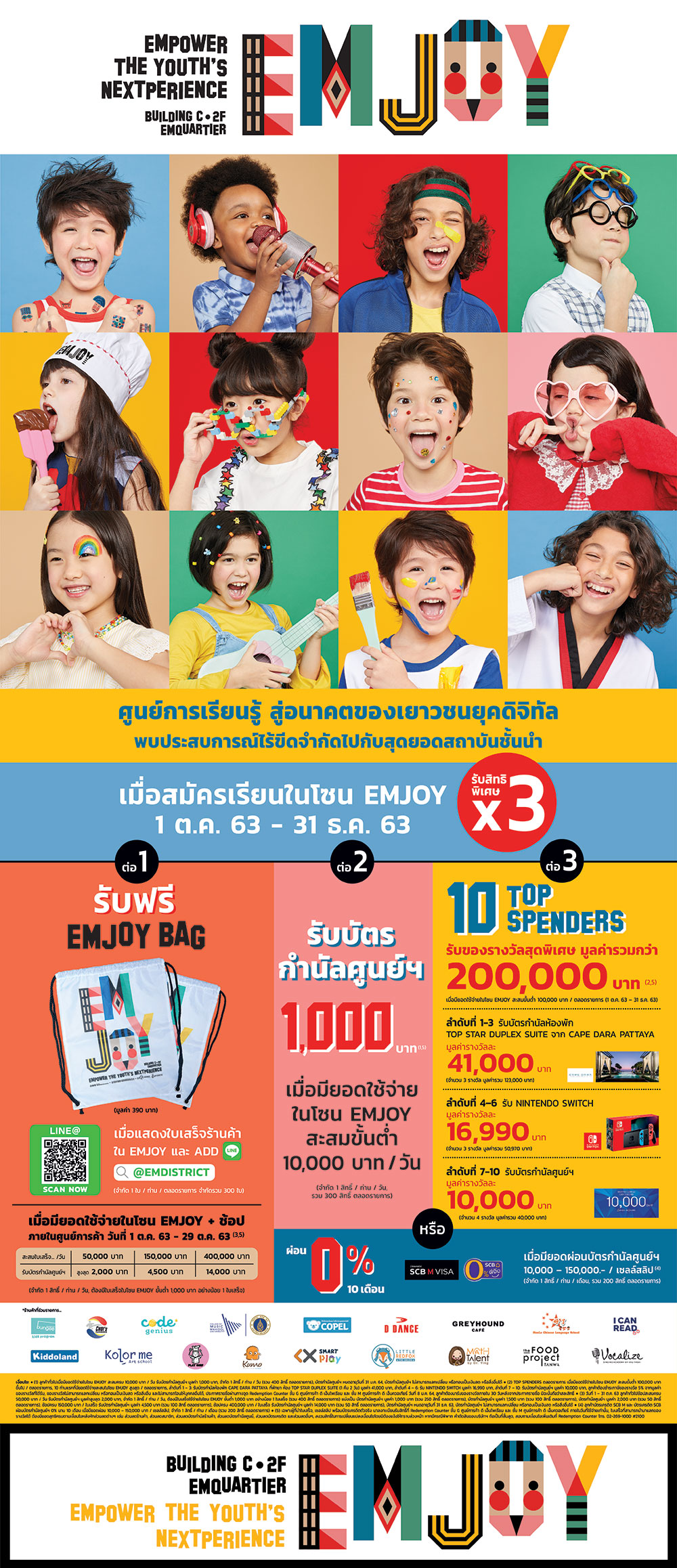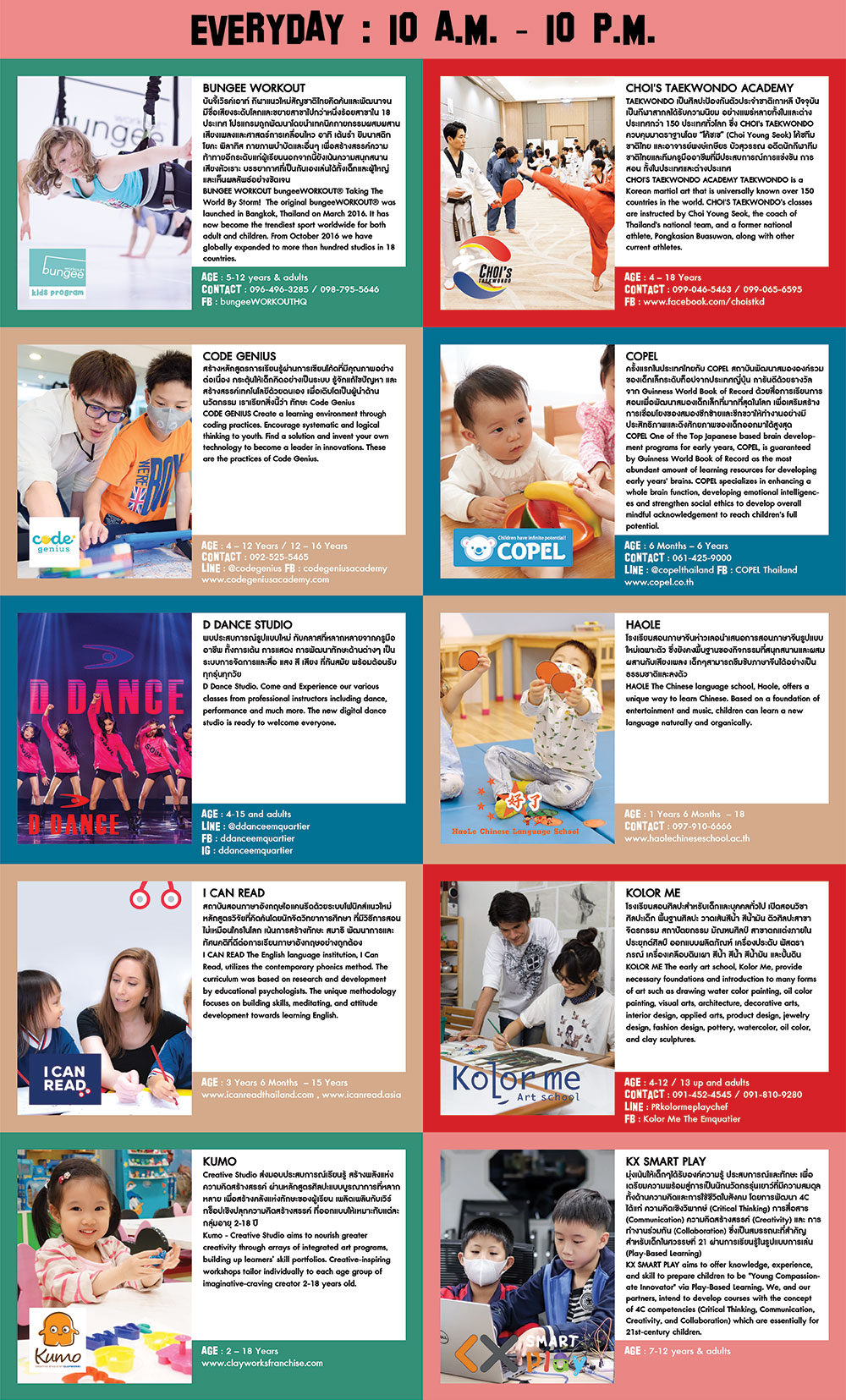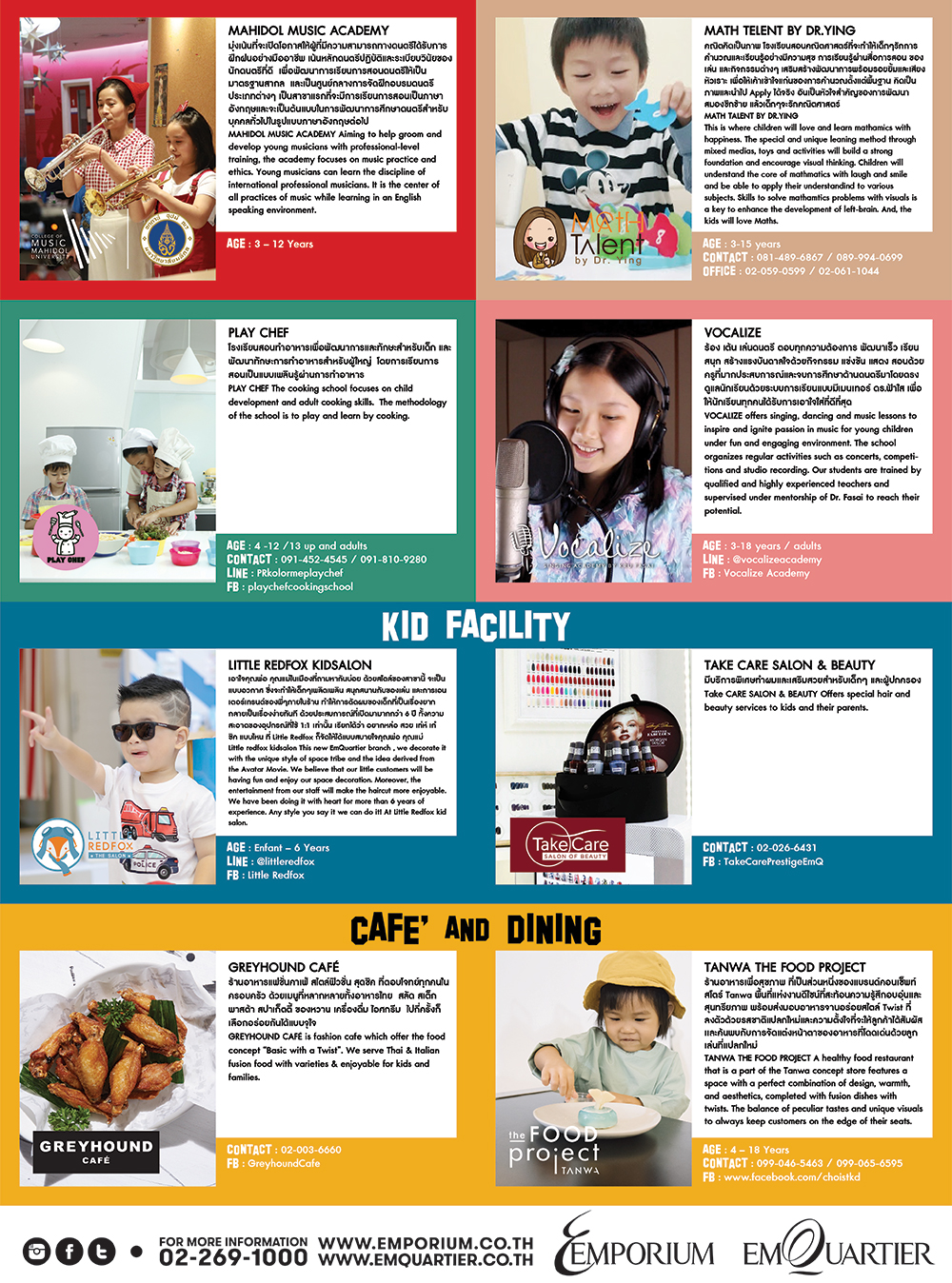 STUDY AND PLAYFULLY WITH ELITE INSTITUTIONSAT EMJOY : EMPOWER THE YOUTH'S NEXTPERIENCE 2nd FLOOR BUILDING C THE EMQUARTIER (10:00 – 22:00)
LET'S BEGIN THE JOURNEY TO THE BRIGHTEST FUTURE OF ALPHA GENERATION FOR YOUNG FAMILY AND EXPAT. THE NEW LEADERSHIPS STARTS HERE THIS OCTOBER
A good deal to make you feel good. 1st October 2020 – 31th  December 2020 we got plenty of promotion you don't want to miss.
* Free EMJOY BAG
* SHOPPING COMPLEX CASH VOUCHER  1000.- for spend an accumulated minimum of 10,000.- at EMJOY ( limited 1 customer/day, overall 300 customers throughout the campaign)
* spending in shopping complex gets back a maximum of 14,000.•
1 October 2020 -29 October 2020
GET 2000.- shopping complex cash Voucher when spending 50,000.- / receipts
GET 4500.- shopping complex cash Voucher when spending 150,000.- / receipts
GET 14000 .- shopping complex cash Voucher when spending 40,000.- / receipts
SCB AND SCB M cardholders pat installment 0% for 10 months when spending 10,000-150,000.- / receipt
10 top spenders get big prizes valued over 20000.- when accumulated spending at EMJOY minimum 100000.- /  throughout the campaign) [1 OCTOBER 2020 – 31 DECEMBER 2020]

1. CODE GENIUS
CODE GENIUS aims to create leaders of tomorrow through our quality coding curriculum which encourages children to think systematically, solve problems and innovate solutions. These Code Genius skills are delivered through a progressive curriculum by a team of experienced teachers and programmers.
2. COPEL
COPEL – One of the Top Japanese based brain development programs for early years, COPEL, is guaranteed by Guinness World Book of Record as the most abundant amount of learning resources for developing early years' brains. COPEL specializes in enhancing a whole brain function, developing emotional intelligences and strengthen social ethics to develop overall mindful acknowledgement to reach children's full potential.
www.copel.co.th
3. HAOLE
HAOLE The Chinese language school, Haole, offers a unique way to learn Chinese. Based on a foundation of entertainment and music, children can learn a new language naturally and organically.
https://www.haolechineseschool.ac.th/
4. I CAN READ
I CAN READ The English language institution, I Can Read, utilizes the contemporary phonics method. The curriculum was based on research and development by educational psychologists. The unique methodology focuses on building skills, meditating, and attitude development towards learning English.
www.icanreadthailand.com , www.icanread.asia
5. KX SMART PLAY
KX SMART PLAY aims to offer knowledge, experience, and skill to prepare children to be "Young Compassionate Innovator" via Play-Based Learning. We, and our partners, intend to develop courses with the concept of 4C competencies (Critical Thinking, Communication, Creativity, and Collaboration) which are essentially for 21st-century children.
6. MATH TALENT BY DR.YING
MATH TALENT BY DR.YING
This is where children will love and learn mathmatics with happiness. The special and unique leaning method through mixed medias, toys and activities will build a strong foundation and encourage visual thinking. Children will understand the core of mathmatics with laugh and smile and be able to apply their understanding to various subjects. Skills to solve mathmatics problems with visuals is a key to enhance the development of left-brain. And, the kids will love Maths.
7. Kumo – Creative Studio
Kumo – Creative Studio aims to nourish greater creativity through arrays of integrated art programs, building up learners' skill portfolios. Creative-inspiring workshops tailor individually to each age group of imaginative-craving creator 2-18 years old.
www.clayworksfranchise.com
8. KOLOR ME
KOLOR ME The early art school, Kolor Me, provide necessary foundations and introduction to many forms of art such as drawing,  visual arts, architecture, decorative arts, interior design, applied arts, product design, jewelry design, fashion design, pottery, watercolor, oil color, and clay sculptures.
9. MAHIDOL MUSIC ACADEMY
MAHIDOL MUSIC ACADEMY
Aiming to help groom and develop young musicians with professional-level training, the academy focuses on music practice and ethics. Young musicians can learn the discipline of international professional musicians. It is the center of all practices of music while learning in an English speaking environment.
10. PLAY CHEF
PLAY CHEF The cooking school focuses on child development and adult cooking skills.  The methodology of the school is to play and learn by cooking.
11. VOCALIZE
VOCALIZE Sing, dance, and play music with us. We can train you to be above average because everyone has a different standard for their skills. Curriculums are personalized to provide the most effective classes for each student to improve their skills comfortably.
12. BungeeWORKOUT
BungeeWORKOUT® Taking The World By Storm!  The original bungeeWORKOUT® was launched in Bangkok, Thailand on March 2016. It has now become the trendiest sport worldwide for both adult and children. From October 2016 we have globally expanded to more than hundred studios in 18 countries.
13. CHOI'S TAEKWONDO ACADEMY TAEKWONDO
CHOI'S TAEKWONDO ACADEMY TAEKWONDO is a Korean martial art that is universally known over 150 countries in the world. CHOI'S TAEKWONDO's classes are instructed by Choi Young Seok, the coach of Thailand's national team, and a former national athlete, Pongkasian Buasuwan, along with other current athletes.
www.facebook.com/choistkd
14. D Dance Studio
D Dance Studio. Come and Experience our various classes from professional instructors including dance, performance and much more. The new digital dance studio is ready to welcome everyone.
15. Little Redfox kidsalon
Little RedfoxThis new EmQuartier branch , we decorate it with the unique style of space tribe and the idea derived from the Avatar Movie. We believe that our little customers will be having fun and enjoy our space decoration. Moreover, the entertainment from our staff will make the haircut more enjoyable. We have been doing it with heart for more than 6 years of experience. Any style you say it we can do it! At Little Redfox kid salon.
FB : Little Redfox
16. Take CARE SALON & BEAUTY
Take CARE SALON & BEAUTY Offers special hair and beauty services to kids and their parents.
17. TANWA THE FOOD PROJECT 
TANWA THE FOOD PROJECT    A healthy food restaurant that is a part of the Tanwa concept store features a space with a perfect combination of design, warmth, and aesthetics, completed with fusion dishes with twists. The balance of peculiar tastes and unique visuals to always keep customers on the edge of their seats.
18. Greyhound Cafe
Greyhound Cafe is fashion cafe which offer the food concept "Basic with a Twist". We serve Thai & Italian fusion food with varieties & enjoyable for kids and families.