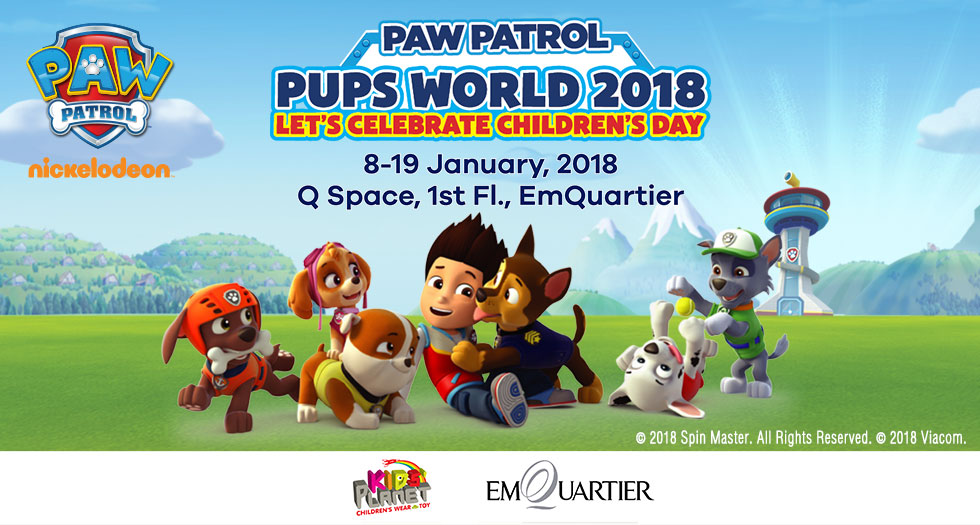 Join the first-ever pups party in Thailand with "Paw Patrol" character animation from USA.
Meet and Greet and have an opportunity to get your photos taken with your favorite characters "Chase" & "Marshall"
*Spend ฿2,000 in a single retail receipt to redeem a Meet & Greet Pass. Limited to first 30 families per session. Terms & Conditions apply.
Stay safe with Road Safety & Fire Safety games and get free giveaways as rewards.
*Show a single retail receipt of any purchase to play a game. Terms & Conditions apply.
Be in for a treat with "Paw Patrol Pups Party" where cakes and cookies are served over big-time fun on Children's Day at 2PM.
*Limited to first 20 kids who have birthday on January. Terms & Conditions apply. For pre-booking on a first-come, first-served basis, please call 095-902-5187
สนุกไปกับกิจกรรมปาร์ตี้ เกม workshop และ Meet & Greet กับน้องหมา Paw Patrol ขวัญใจเด็ก ๆ ในงาน Paw Patrol Pups World 2018 วันที่ 8-19 มกราคม ที่ Q space ชั้น M EmQuartier
MEET & GREET กับ Chase และ Marshall 2 Character Animation ชื่อดังจากอเมริกา มาปรากฎตัวครั้งแรกในเมืองไทย ในงาน Paw Patrol Pups World 2018 วันที่ 8-19 มกราคม ที่ Q space ชั้น M EmQuartier
พิเศษเฉพาะวันเด็ก 13 ม.ค.นี้  Paw Patrol Exclusive Party ขอเชิญน้องๆ ที่เกิดในเดือนมกราคม มาสนุกกับแต่งหน้าเค้ก และอร่อยไปกับขนมหวานและคุกกี้แสนอร่อย ในงาน Paw Patrol Pups World 2018 วันที่ 8-19 มกราคม ที่ Q space ชั้น M EmQuartier สำรองที่ด่วน เพียง 20 ครอบครัวแรกเท่านั้น ที่ โทร. 095-902-5187